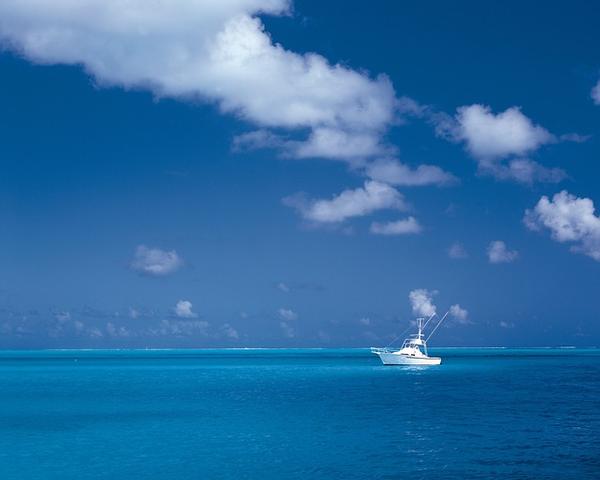 When you set sail with Calypso Sailing Charters, the waters of Key West are yours to explore. Whether you jump into the crisp, warm waters for a swim, go fishing for your favorite sport fish, or take in the underwater sights and ocean life on a series of scuba dives, there's no shortage of fun to be had when you rent a catamaran or sailboat in the Florida Keys. And when you sail with Calypso Charters, you can do so with the added joy of knowing that all the supplies you need to have fun on the water will be awaiting you before you get on board. But the joys of the ocean are just the start of your island sailing adventure when you choose to book a charter with Calypso Sailing. After all, what makes your Florida Keys sailing charter an adventure of a lifetime isn't simply the adventures and relaxation you'll find on the water, but the thousands of activities, people and locations you can see throughout your island travels. That's because our fleet allows you access to a variety of locations across the region —and the pleasures that can be had on land.

The island of Islamorada, located in the the Upper Keys, is easily accessible by your Calypso Sailing charter and offers a variety of fun activities for both families and couples. Long regarded as one of the world's premier fishing destinations, Islamorada is also home to a rapidly developing range of tourist and cultural attractions and a variety of newly established outdoor recreational opportunities. The island also has the distinction as being the Keys region's unofficial headquarters for Florida Keys history, and is home to a burgeoning arts scene that's fast becoming a must-see for all visitors to the Upper Keys and surrounding islands.  And for couples looking for a romantic retreat from their time at sea, Islamorada also lays claim to some of the Upper Keys most well-regarded restaurants and iconic tiki bars where you can enjoy a meal of fresh seafood and a quiet cocktail while your catamaran or sailing charter anxiously awaits your return.

Morada Way Arts and Cultural District

Setting sail on Calypso Charters with a passion for arts and culture? Islamorada's Morada Way Arts and Cultural District is the epicenter of the Upper Keys' Arts & Cultural District, an area of the island comprised of a  6-block corridor marked by the cornerstones of the iconic Green Turtle Inn and the Hurricane Monument. The primary arts thoroughfare in the Florida Keys is Morada Way —a lively neighborhood that offers a potpourri of things to do on a daily basis. From live music, to galleries displaying the works of local painters, sculptors and fashion designers, to a variety of shops, cafes and restaurants, Morada Way is an exciting, educational and even delicious way to spend the day away from sailing in your Calypso Charter.

Indian Key

If your a part of a family looking to make your Calypso Charter adventure as educational as it is fun, than Indian Key Historic State Park is for you. It's perfect for families who enjoy spending time in nature, or for kids who are curious about wildlife. Located near Islamorada and accessible only by boat, visitors come here to swim, picnic and to hike on various nature trails. What better way to expand your Florida Keys charter rental adventure than to get an up close and personal look at regional flowers and birdlife. Kayak rentals are available from several local charter companies, which allow you to enjoy the waters up close and personal while you're taking a break from your catamaran or sailing charter adventures. Kayaks and canoes can float across most of the islands flats and offer you and your kids a wide variety of opportunities to see some of the best wildlife the Florida Keys can offer, from dolphins and manatees to sharks and rays.


Florida Keys History & Discovery Center

From from shipwrecks, hurricanes, pirates, and sunken treasure to vacationing movie stars, you can experience the entire colorful history of the Florida Keys when you visit Islamorada's Florida Keys History & Discovery Center. Not your run-of-the-mill, stuff museum, the Florida Keys History & Discovery Center offers you an experience as exciting and vibrant as your Florida Keys sailing charter. Constructed in 2014, the Discovery Center is a a two-story 7,500 square foot oceanfront museum with a state-of-the-art theater featuring a wide variety of exhibits and illustratively outline the cultural history of the Florida Keys, from their time as a secluded natural wonder to the present day. From an on going lecture series that presents island historians and artists, to exhibits displaying hand-carved reproductions of Native American tools, the Florida Keys History and Discovery Center is a great way for you and your family to appreciate the vast history of the Florida Keys region while you sail through it in your chartered vessel. 

One Charter, a Lifetime of Memories

When you set sail with Calypso Charters, you're embarking on an adventure that you and your family will never forget. Interested in learning more about a Florida Keys sailing adventure, or a Florida Keys catamaran rental, contact Calypso Sailing today.  Contact our knowledgeable team of Florida Keys sailing experts today to plan your next adventure. Remember, sailing in the Florida Keys isn't just about the wonderful experiences that you have on the water, but the memories that you make on the islands you visit as well!